2023 Summer Camp & Programming Ministry
Opportunity
Central Mission Center - Community of Christ
Youth Ministries
2023 Summer Camp & Programming Ministry Position
Applications Open Until Position Filled
Central Mission Center is looking to find 2 individuals interested in gaining practical ministry training in youth ministry, to engage in activities to develop skills in youth ministry, test gifts and call to the vocation of youth ministry and provide support to the Youth Ministries program of Central Mission Center.
General Responsibility:
To assist the Youth Ministries team in preparation and implementation of the summer camping program. Specific Responsibilities include but are not limited to:
Share the gospel of Jesus Christ and encourage youth in their discipleship formation through the study of scripture, prayer, fellowship & service.
Maintain personal, spiritual & professional growth.
Attend summer camps when assigned to include, but not limited to: High School Camp & trips, Middle School Camp, Junior Camp, Children's Camp & Reunions (some camps depend on age.)
Assist in the planning, preparation & execution of administrative responsibilities of the camps.
Participate in the development & implementation of camp registration (to include name tags, copies, registration, health forms, etc.).
Participate in a variety of roles in each camping situation. This may include, but not limited to, class teacher, activities coordinator, counselor, pastorate & minimal business management, program help.
Prepare & send out mailings & other communication in preparation for camping events.
Congregation & Mission Center ministries where & when appropriate.
May engage with local outreach efforts such as Hawthorne Place & Western Independence ministries.
Journal internship learnings/experiences to be reviewed by Youth Ministries.
A look back at 2022- Ishbel Wilson
"This summer allowed me to see the importance of giving campers a space to grow individually and in a community. I wouldn't trade this opportunity for the world!"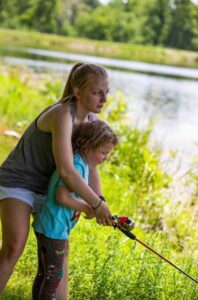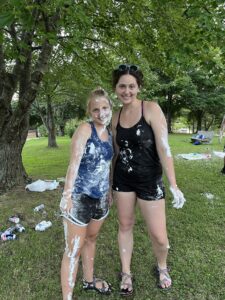 A look back at 2022- Breanna Clark

Desired Qualifications:
Ability to work effectively with youth, exhibiting creativity, understanding & patience
Strong interpersonal skills
Demonstrated ability to create, prepare & teach activities (classes, devotions, etc.)
Good character, integrity & adaptability
Knowledge & understanding of the Enduring Principles & the Mission Initiatives of Community of Christ.
Enthusiasm, sense of humor, & patience
High school graduate
21 or older
Video production and/or proficiency with Microsoft Office, Worship presentation software, etc.
Knowledge of Mac programs
Registered Youth Worker with Community of Christ
Able to seek clarification & direction when needed
Active member in church life year around
Additional Information:
Applicants must have reliable transportation. The job requires very flexible hours.
Pay: $12.00/hour for an average of 8 weeks
Position Dates: May 30th through July 31st, 2023